This week, our Tako Tidbits are all about food (of course!) and eating your way through Tokyo.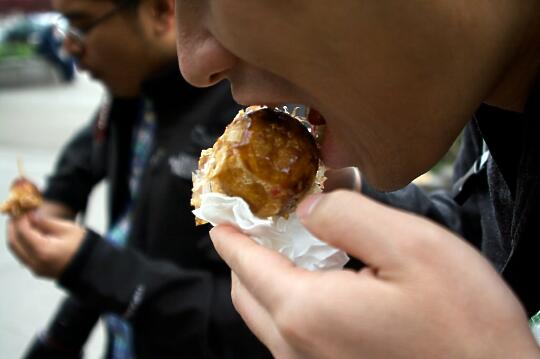 Is the quality of sushi in America on a decline?
Jeffrey Steingarten (a well-known American food writer who is a regular judge in on Iron Chef America) wrote an excellent article about visiting and eating his way through Japan.
If you listened to our onigiri episode a few weeks ago, you may remember hearing us talk about the convenience stores, or konbinis, that they have in Japan. This article goes into far more depth about what Japanese konbinis are like, and how they differ from American convenience stores.
If you want to bring a little more Japanese craziness into your life, download this Neko Zushi app! It's available for the iPhone or iPad… and pretty darn silly.
This list of 40 Tokyo foods we can't live without is making us hungry. The list ranges from common to exotic, but just about all of them sound delicious.
And while we're on the topic of eating your way through Tokyo, this article has some delicious-sounding recommendations for where to eat in Tokyo.
Our friend SushiPRO interviewed the two of us this week! Part 1 and Part 2 of the interview can be found on his blog.
Matthew Amster-Burton is awesome. Not only does he have a very cool podcast, Spilled Milk, which he co-hosts with Molly Wizenberg (which has been a HUGE inspiration for us). Not only has he been a huge help to us while we figure out how to do this whole podcasting thing (thank you so much!) On top of all of that… he is currently on a journey to learn to speak and write Japanese, and he's blogging about it. While one half of us can speak Japanese (that would be Rachael), the other half has always wanted to but currently doesn't know a darn thing (yep, that's Allison). So his blog posts are hugely inspirational and very helpful… if you want to learn Japanese as well, but don't know where to start, we highly recommend reading them!