Podcast: Play in new window | Download (Duration: 42:38 — 39.1MB)
This week we have another special guest – Kate, aka the yaki imo girl, aka our #1 Miso Hungry Podcast fan, from Eat Recycle Repeat!
She's joining us to talk about her very favorite food – Japanese sweet potatoes!
(Our apologies in advance about the sound quality this week – Kate was Skyping with us all the way from Japan, so sometimes the connection wasn't the greatest.)
Kate lives in Japan, and has fallen madly in love with sweet potatoes in her time there!
Did you know that sweet potatoes and yams are not the same thing? What they label "yam" in an American supermarket is almost guaranteed to be a sweet potato. Actual yams don't grow in the US – they only grow in Africa, but they're starchier and less sweet than sweet potatoes.
Types of Japanese Sweet Potatoes
Satsuma imo: yellow inside, dark, purply skin, starchy with a well-rounded flavor.
Beni imo: from Okinawa, deep purple; sweet, great for baking/desserts. (Called murasaki imo when used in desserts.) For some reason, they won't allow you to take raw beni imo out of Okinawa.
Anno imo: orangey color; kind of like American sweet potatoes, used in winter. You can buy them baked, also often found dried (hoshi imo).
Sweet potatoes are really good for you, taste great, are great comfort food, travel well, and are great for people with food allergies and intolerances.
In Japan, there's a yaki imo truck in the fall and winter, which is kind of like the Japanese version of an ice cream truck.
They're extra good when it's freezing cold outside (especially if you're at one of the yaki imo festivals in Okinawa or Kawagoe City), and can double as a hand-warmer.
Saved by the yaki imo truck! We're positive Kate has a yaki imo guardian angel.
Sweet Potato Recipe Ideas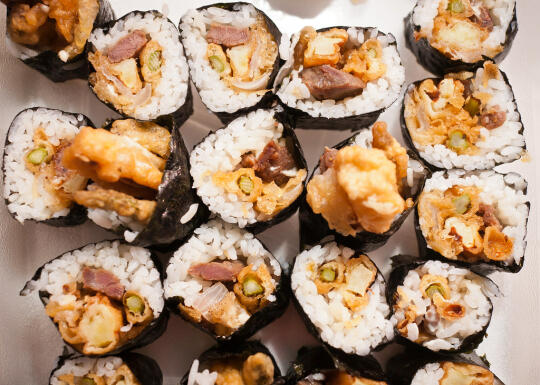 Satsumaimo kinton (a type of wagashi)
Ofuku imo
Sweet potato tarts
Did you know that if you eat a lot of sweet potatoes, you'll get "running bursts" that will make you go faster? This is what Japanese kids tell Kate…
Chestnuts are considered the "sweet potato" of nuts – no wonder they go together so well!
Sweet potatoes have a very low impact on your blood sugar. They're high in Vitamin A and beta carotine, and are as nutrient-dense as broccoli (but a whole lot tastier!) The skins (which are great if you bake them after taking the flesh out) are high in fiber.
Kate got to help out with a sweet potato harvest this year, which sounds pretty cool (especially when you get to take some home!)
Anyone have a good idea for a Miso Hungry yaki imo shirt?
Kate gave us a quick and easy recipe she often uses to make sweet potatoes to use in other dishes:
An Easy Way to Cook Sweet Potatoes
Ingredients
sweet potatoes
1 cup water
Cooking Directions
Put sweet potatoes and water in a crockpot, cook on high for 4 hours.
Use for anything where the texture isn't super important (ice cream, baked goods, etc.)
Enjoy!
(P.S. Kate is giving away an entire box of sweet potato goodies to one lucky winner, so go check out the giveaway post on her blog to see how you can enter!)