Podcast: Play in new window | Download (Duration: 40:36 — 37.2MB)
Make sure you don't miss the Zojirushi giveaway we're doing!
How is rice grown?
In Japan, young seedlings are first raised in nursery beds until they are large enough to be transplanted into water-filled paddy fields during the rainy month of June.
The rice needs a long, hot growing season and a warm, dry maturing period before the harvest in autumn. In general, it requires high maintenance, skilled land management, and good luck with the weather.
How to buy and store rice
The flavor of newly harvested rice in late autumn is considered to be the best.
Polished rice should be stored in an airtight container in a cool, dark, and dry place and eaten as soon as possible.
Certain Italian rices can be used as a substitute for Japanese rice. Italian rices typically used for making risotto, such as Arborio and Vialone can be used if you can't find Japanese rice where you live.
How to cook rice
If you want rice that is tender, flavorful, glossy, and moist, then you must remove all of the surface starch from the raw rice kernels before cooking them, which means you have to wash the rice.
Put the rice in a large bowl and cover it with cold water. Stir and swish the rice vigorously (it will become cloudy). Drain the rice then repeat the procedure with fresh cold water. Continue until the rinsing water runs clear. Drain the washed rice well after the final rinsing.
When cooking Japanese-style rice, the amount of cooking water is always slightly more than the amount of raw rice. In fact, the first way we learned to measure out water and rice ratios for cooking was by using our hands! The water level should rise about 1/3 inch above the rice (some people measure using the tip of their thumb, or their entire hand).
Plain boiling is the classic way to cook rice. Now nearly every Japanese household uses a rice cooker, but you can still make it the traditional way on the stovetop!
A Japanese song describes the cooking process:
Hajime choro-choro (At first it bubbles)
Naka pa-ppa (and then it hisses)
Akagao ga naite mo (even if the baby is crying from hunger)
Futa toru na! (never remove the lid!)
So basically, place the pot over high heat and bring the water to a rolling boil. The song will help you recognize clues to where you are in the process so that you don't have to lift the lid! You will know the water is boiling when you hear bubbling noises and see the lid begin to dance (this is the choro-choro line). Then reduce the heat to low and continue to cook for about 5 minutes, or until you hear a low hissing sound (the naka pa-ppa stage). Increase the heat to high again for 30 seconds to dry off the rice, then remove from the heat, still tightly covered, and let it stand for at least 10 minutes. The rice is NOT done at this point! It will use those 10 minutes to do a final self-steaming to reach the proper texture.
Of course, if you eat rice more than once a week, then a rice cooker is well wroth the investment! Cookers allow you to set the cooker to work when you aren't around and will keep the rice fresh for several days.
And most importantly, how do you eat rice?
Bowl of plain white rice: Plain rice is traditionally served in an individual bowl with a separate bowl of miso soup. This is the simplest Japanese meal and other dishes, no matter how elaborate they may be, are mere accompaniments to the rice.
Donburi mono: Big bowls of plain boiled rice served with different toppings and sauces as a one-bowl meal, often for lunch.
Oyako donburi: Chicken and egg over rice.
Tendon: Tempura of fish and vegetables over rice.
Katsudon: Pork cutlet over rice.
Gyudon: Sauteed beef over rice.
Unadon: broiled seasoned eel over rice.
Gomokumeshi: Rice boiled with small pieces of vegetables (usually five different kinds). Some people add small bits of fish or chicken.
Kayu: Rice porridge. Fed to babies as their first "solid food". Also given to the elderly, the sick, and pregnant women.
Zosui: Leftover plain boiled rice (hot or cold) is added to soup.
---
Zojirushi was kind enough to provide us with a rice cooker for one lucky winner! And by now, we're sure it's no secret how much we ADORE our Zojirushi rice cookers…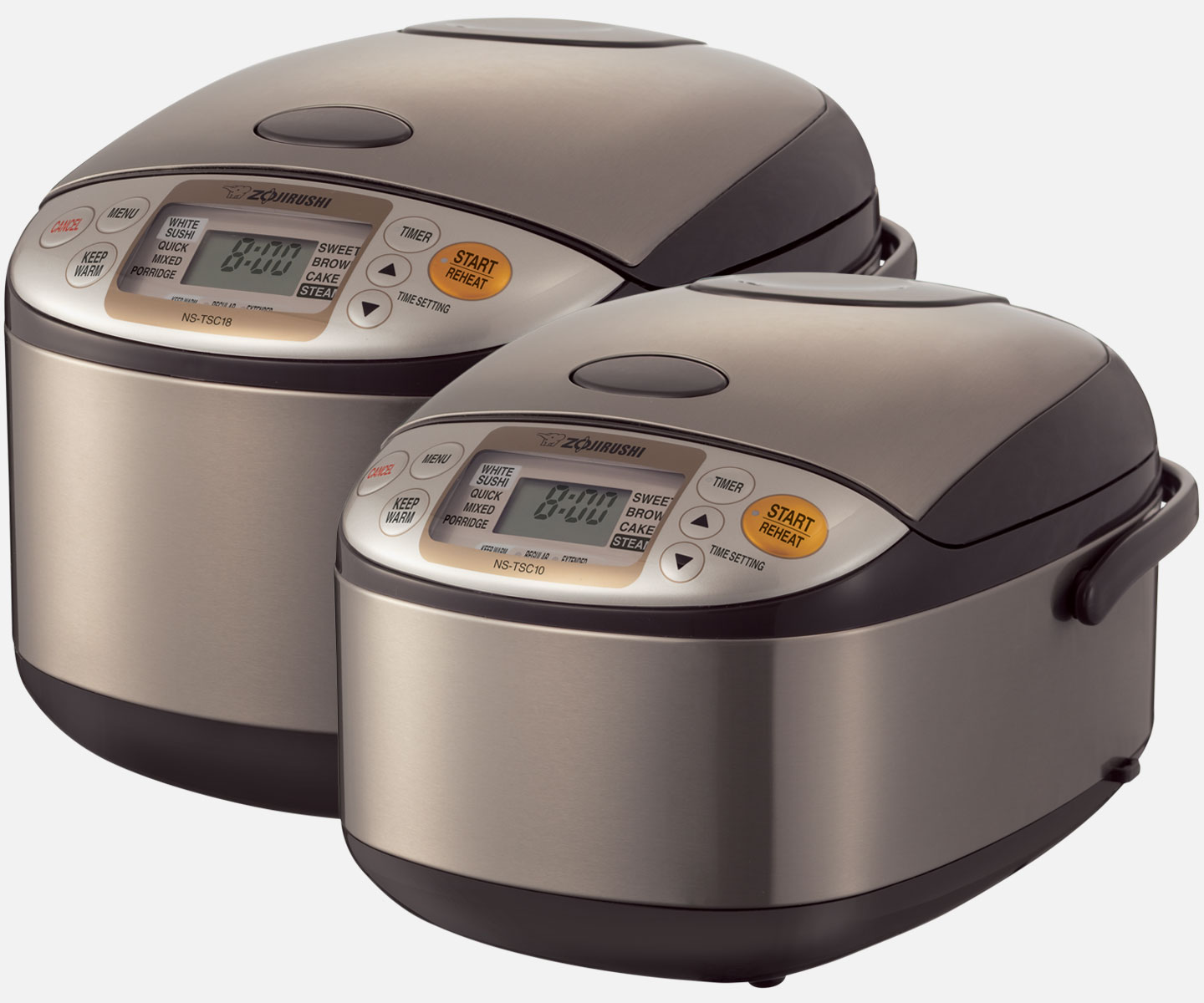 Zojirushi released a new Micom Rice Cooker & Warmer (NS-TSC10/18) in April. The unit is available in a 5.5 and 10 cup capacity and the unit doubles as a steamer with its versatile steam menu setting. With advanced fuzzy logic technology and easy cleaning features, the Micom Rice Cooker & Warmer provides convenience and style in an ultra-functional package. The Micom Rice Cooker & Warmer comes in a new stainless brown exterior, and will carry a SRP of $192.00 for the 5.5 cup and $209.00 for the 10 cup.
(If you win, you will have a choice between the 5.5 cup and the 10 cup sizes.)
The Micom Rice Cooker is a welcome addition to any kitchen, with a detachable and washable inner lid, easy-to-read LCD control panel and two delay timers. Cook settings for the new Micom Rice Cooker include white rice/sushi, mixed rice, porridge, sweet rice, brown rice, the NEW steam setting (steaming basket included) and the ever popular quick cook setting. Other features include: interchangeable melody and beep signals, automatic and extended keep warm settings, a thick, black inner cooking pan, spatula and holder and a measuring cup. With a sleek brown stainless steel exterior and convenient one-touch selection, the new Micom Rice Cooker cleverly brings style, substance and simplicity to the kitchen countertop.
Zojirushi was established in 1918 as a producer of hand-blown vacuum bottles and has been a world leader in thermal products ever since. The Zojirushi line has been expanded to include a wide range of stainless steel vacuum bottles, rice cookers, breadmakers, Air Pot® beverage dispensers, thermal serving carafes, specialty cookware, small electrics, restaurant equipment, and other products. Today, the Zojirushi corporate logo is a symbol recognized worldwide for innovative, highly durable products that are designed to make indoor and outdoor living a more convenient and pleasurable experience.
All you have to do to be entered to win is leave a comment on this post before 11:59pm PST on Monday, May 21st
Friday, May 25th, 2012

.
You have
6

ways to enter:
Leave a comment here to enter the contest.

Follow @misotalk on Twitter…
Follow @misotalk


then come back here and leave a separate comment saying you did so.

Follow @ZojirushiUSA on Twitter…
Follow @ZojirushiUSA


then come back here and leave a separate comment saying you did so.

Tweet about this contest, including a link to this page and the hashtag #misohungryzojirushi…
Tweet #misohungryzojirushi


then come back here and leave a separate comment saying you did so.

Like Miso Hungry Podcast on Facebook…

then come back here and leave a separate comment saying you did so.

Share this post using the Facebook like button:

…then come back here and leave a separate comment saying you did so.
One winner will be picked, using random.org. Unfortunately, this giveaway is limited to US addresses only.